"To be equipped to work at a higher level in the long term, children with HLP [high learning potential] need to experience higher-order thinking skills; analysis, synthesis (working with several sources of information to create something new) and evaluation." – Advice Sheet PA103 – Needs of Children with High Learning Potential
Gifted children need to experience higher-order thinking skills, such as analysis and evaluation, as often as possible. If you're a busy parent that's easier said than done. It can be difficult to think of a good way to create challenge, but it is possible. When you're next in a city or town, how about challenging your child to notice the purpose of shapes? They're more than just forms that exist. For a high potential learner this can be the cue to ask "Why?" and "What if?".
Diagonals
Oxford Circus in London has the UK's first large diagonal pedestrian crossing. From each street corner there are three possible ways to cross the road, one being directly to the opposite corner. Why was it built this way? (Answer: to double the number of pedestrians it can handle, and shorten the time it takes.) https://www.atkinsglobal.com/en-gb/projects/oxford-circus-diagonal-crossing  Should other crossings be like this? Which ones?
King's Cross Station in London has a diagonal diamond structure used in its roof, The Gherkin (the London skyscraper 30 St. Mary Axe) has 7,429 diagonal panes of glass. Was that a good idea? Think about the materials used to build them. Were those a good choice?
Zigzags
You'll see plenty of these on the road! Why does your child think those shapes are used to warn people not to park their vehicles?
Circles
KS1 & 2: Roman amphitheatres such as the Colosseum were designed as circles to place the focus on a main event. Can they think of any other buildings which do this, for example the Globe Theatre? How does an open roof change a theatrical experience?
KS3 & 4: Analyse this sculpture entitled: The City of the Circle and the Square https://www.tate.org.uk/art/artworks/paolozzi-the-city-of-the-circle-and-the-square-t00638
Why are cities not entirely circular? Look at a map of one near you.
 Sculptures and Street Art
Colour and creativity versus height!
Newcastle's Angel of the North has a wingspan of 54 metres. Does it make an impact? Have a think about why the wings are slightly inclined (3.5 degrees forward).
Anish Kapoor's Orbit has loops entwined to resemble a helter-skelter. Do you like the red colour? Why are bright colours used for city art?
Some cities use street art to brighten buildings. When you're next in Leeds (or watch the video), look out for Athena Rising, which is spray-painted on the entire length of a building. Have a think about the gold coloured geometry at the bottom – what do you suppose inspired it?
https://southbankleeds.co.uk/article/the-uks-tallest-street-art-mural-nomad-clan-athena-rising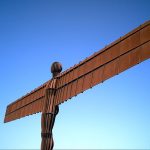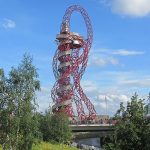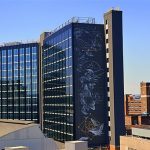 Talking Points
More than 50 per cent of the world's population now lives in towns and cities. The Eden Project in Cornwall has a building called The Core, which was designed using Fibonacci's numbers and plant spirals. Could you design your own building to be used in a busy city, based on Fibonacci's idea?
Look up the cost of a modern building. Do you think it was expensive to create? Could you reimagine the building with a simpler structure?
There are rows of houses in cities such as Bradford and Manchester, built by Victorian factory owners. Why do you think they are in those places? Research the surrounding area to know more. Older children might want to compare the styles with the Georgian terraced housing in Bath.
On your bike! Take a ride along some of these routes to see towns and cities. https://www.sustrans.org.uk/ncn/map/walking-and-cycling-routes/city-adventures/routes-and-around-cities
Almost Triangular
KS1 &2: Next time you're in a capital or regional city, look up to spot triangular-shaped buildings where two roads merge. These are known as flatirons, because their shape resembled the tall wedged shape of clothing irons used in the 19th century. Examples of Flatiron buildings include:
Bradley House in Manchester
Leeds Bridge House in Leeds
The Flatiron Building, New York
Roads
Traditionally, roads followed the contours (natural shapes) of lands. However, Spaghetti Junction in Birmingham is an intersection of motorways above railway lines, canals and two rivers near Birmingham. Look at a map; why is it designed like this rather than a simpler set of junctions? What kind of maintenance do you think such a big road needs? Consider vegetation and steelwork.
---
To take your ideas further, engage creative thinking skills through our factsheet: PA701 Developing Creative Thinking Skills.