The Be Curious Weekend 2019 was held May 4th-5th at historically significant Beaumanor Hall and provided a superb setting for experiential and empathetic exploration for children and their parents.
The site has a rich history; the Victorian Hall was in private ownership until World War II, when the estate was requisitioned by the War Office. Throughout the war the Hall was used as a secret listening station to intercept encrypted enemy signals.
Over the Be Curious Weekend, the Hall and its history offered the opportunity for activities that focused on higher-level thinking skills, whilst the grounds and natural resources enabled a series of challenges more reliant on a combination of creativity, physicality and effective team-working skills.
The weekend brought a mix of weather conditions, but thankfully most of the rain clouds stayed away, so that families could enjoy the breadth of activities both inside the historic buildings and outside in the grounds.
Experiencing a Victorian school day (where more than one dad had a wooden back straightener to prevent slouching placed behind his back, with each arm hooked over the narrow ends) proved to be popular with children and parents alike.  Exploring the census to find individuals as young as 13 had worked as servants was a revelation for the children. In the cellars they enjoyed having a go at pumping the water, washing in a tub and rotating the mangle to squeeze out excess water; whilst their parents reflected on their gratitude for having a washing machine at home! and of course, code-breaking at Station-Y was universally popular.
In the woods, families worked together to create shelters out of tarpaulin and rope and whatever natural resources they could find, and a Celtic session led to people going blue in the face (woad). Bridge-building offered a very possible dunking, when all members of the team tried to cross the stream on their wooden constructions, built from rope and planks that were too short to use on their own. While land buggies were a definite favourite for many families – using a couple of barrels and poles in an attempt to create an effective vehicle to race against others.
Based on Potential Plus UK's partnership with the Skills Builder initiative the children and their families had opportunities to identify and hone essential skills in eight key areas (Teamwork, Leadership, Creativity, Problem Solving, Aiming High, Staying Positive, Listening, Presenting). Guidance was provided on how the children could work together as a family, or challenge each other, to track and monitor the skills they were developing.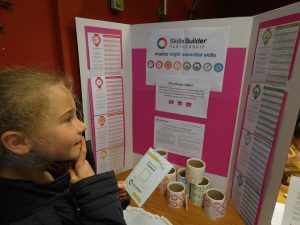 The feedback from families was that they rated their overall experience as good or brilliant! We look forward to 'Being Curious' again!