If you and your children enjoy this quiz…If your child comes up with quirky answers…If your child wants more activities that entice their enthusiastic and enquiring mind…then take a look at the Learning Resources, our Blogs or more information about how we support Families.
Thanks to Potential Plus UK Members and members of the Parenting High Potential Facebook group for filling in a survey to help us create our quiz. Try the 20 questions below and see if you can spot the top 3 answers – then press the chevrons on the question to see the answers and add up the points. Bonus points for matching some of the other answers we received are also listed – whoever gets the most points wins!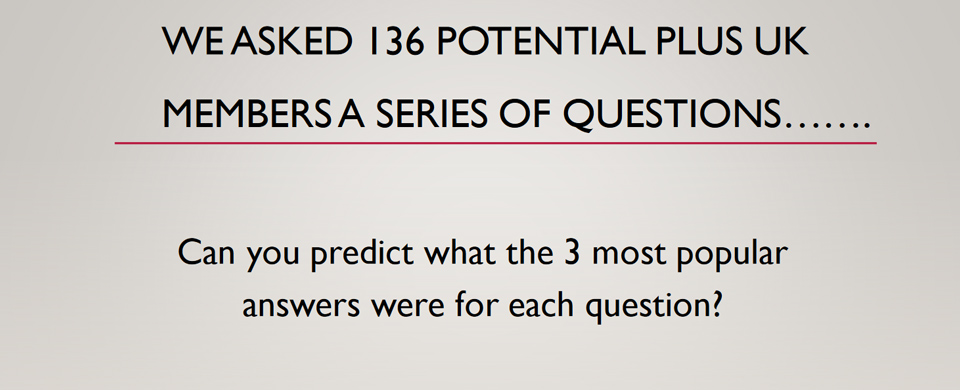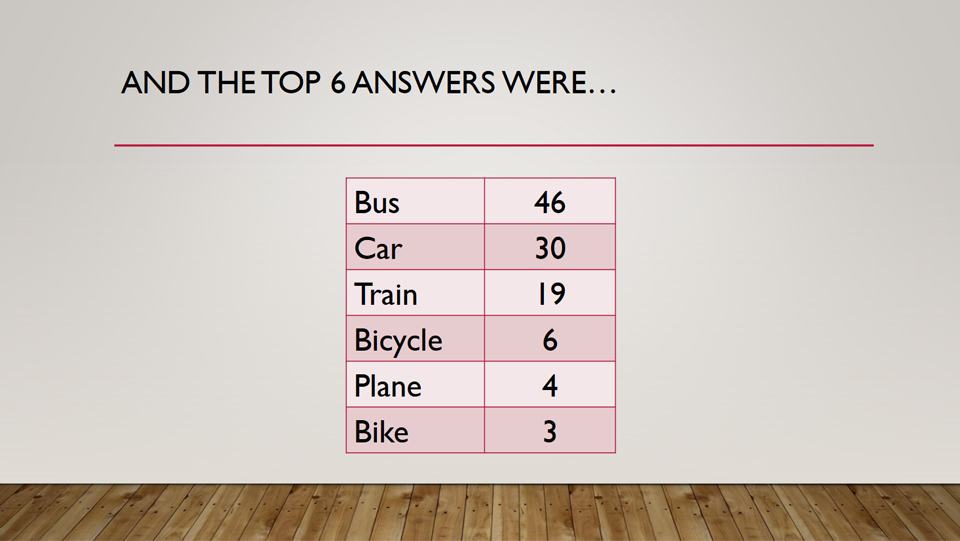 This category brought a diverse range of answers – from hackney carriage and the Shinkansen, to a helicopter, a jet pack, a tram and a unicycle – award yourself an extra point if you said any of those things!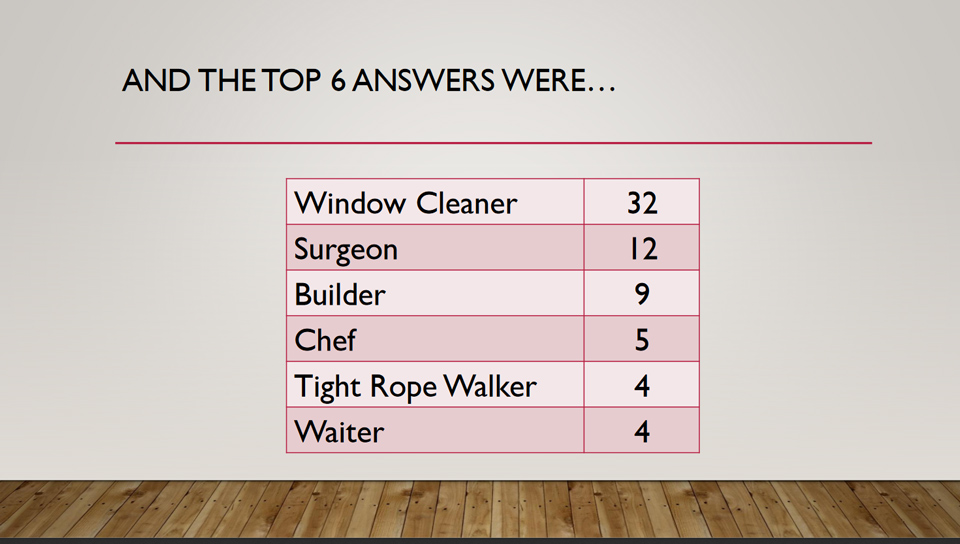 There were some very creative answers in this category – would you have said a Banana Picker, a Stunt Man, a Trapeze Artist or a Glass Blower? If you matched these answers give yourself an extra point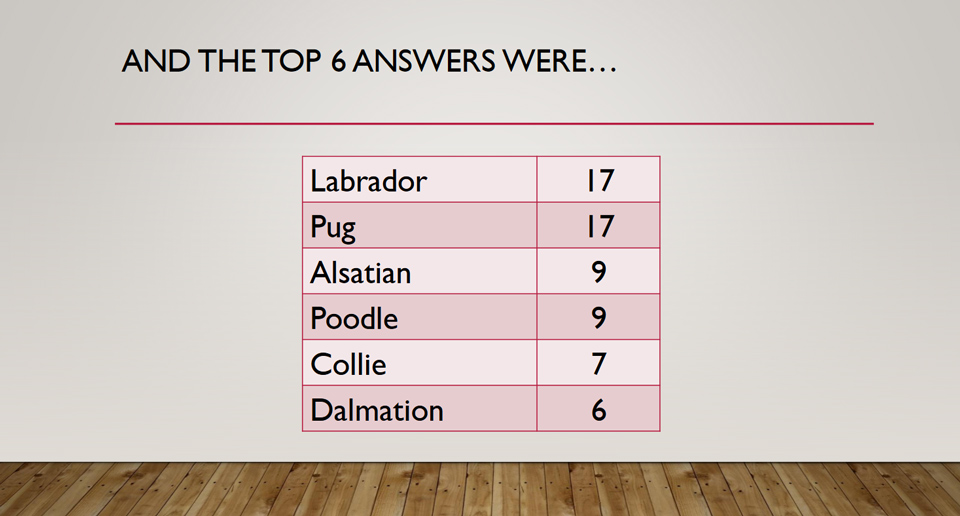 There were lots of breeds nominated in this category, however it's nice to see that our top dog was voted the nation's top dog last year – and is America's top dog this year – Congratulations to the Labrador!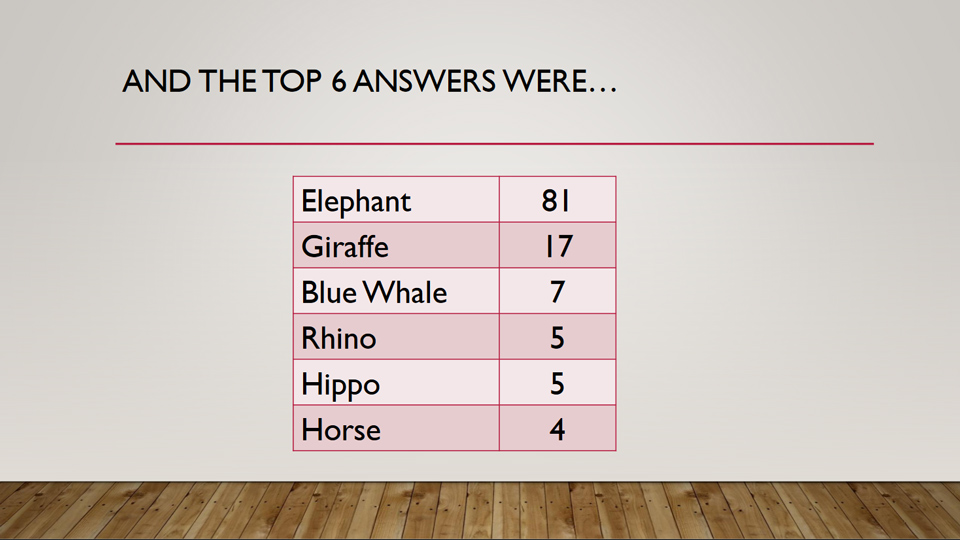 Without a doubt, Elephant was the winner in this category – however one or two prehistoric animals also got a look in – the Sabre Tooth Tiger, a Stegosaurus and even an Argentinosaurus, the largest of the herbivores, which at an estimated 300 metres long, 50+ tonnes in weight probably wouldn't have even got a tail tip into a mini!  If you named any of these animals – or even the more generic 'dinosaur' – award yourself an extra point.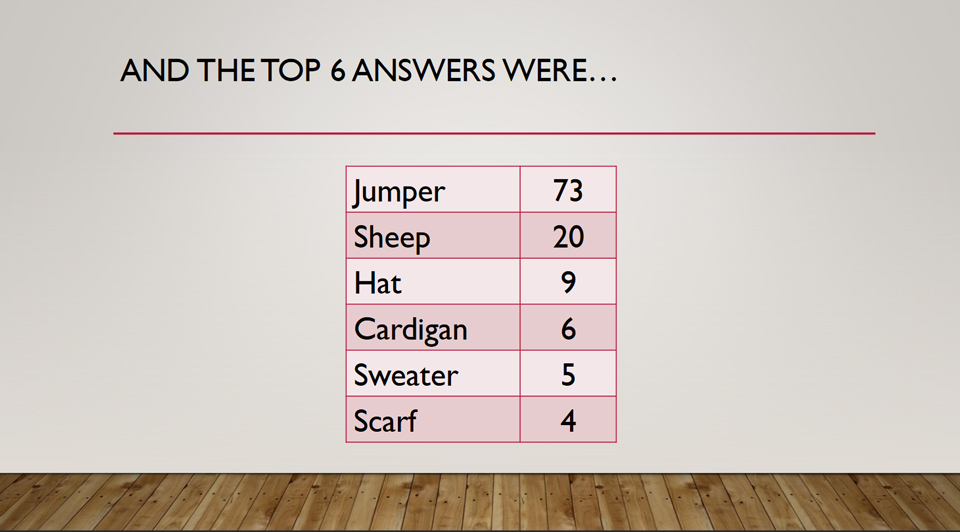 Something 'made of wool' – one of our top six answers may have stretched that definition a little with the answer 'sheep' – however the answer that caused the most confusion was definitely 'Lamb Chops' – until it was pointed out that this was a popular ventriloquists dummy on television in the 1960s and 70s!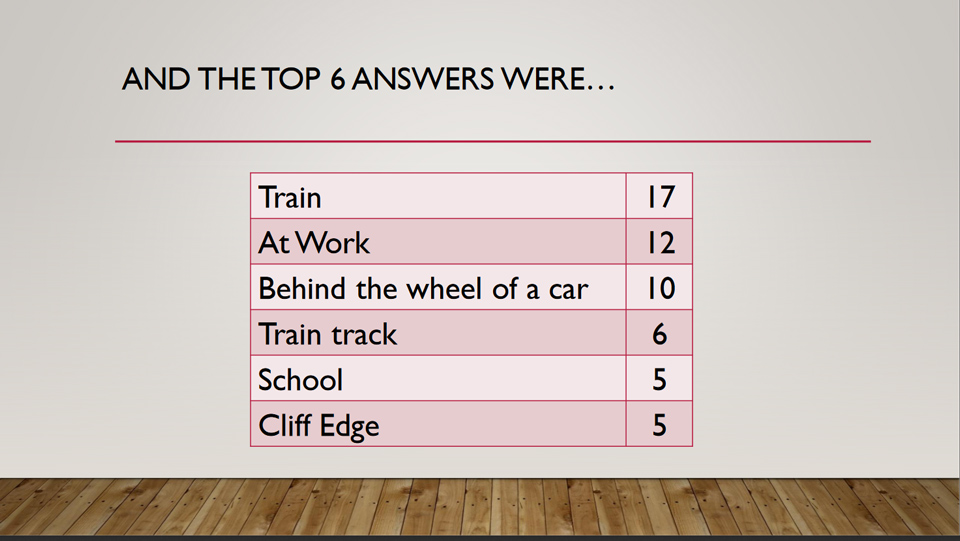 The greatest range of answers were definitely to this question – a lot of answers involved being in charge of machinery – whether train, plane or automobile – but 4 people named the toilet and 2 people the House of Commons – although it is doubtful anyone has done much sleeping there in the last few months – and 1 person mentioned an exam hall, hopefully not from personal experience!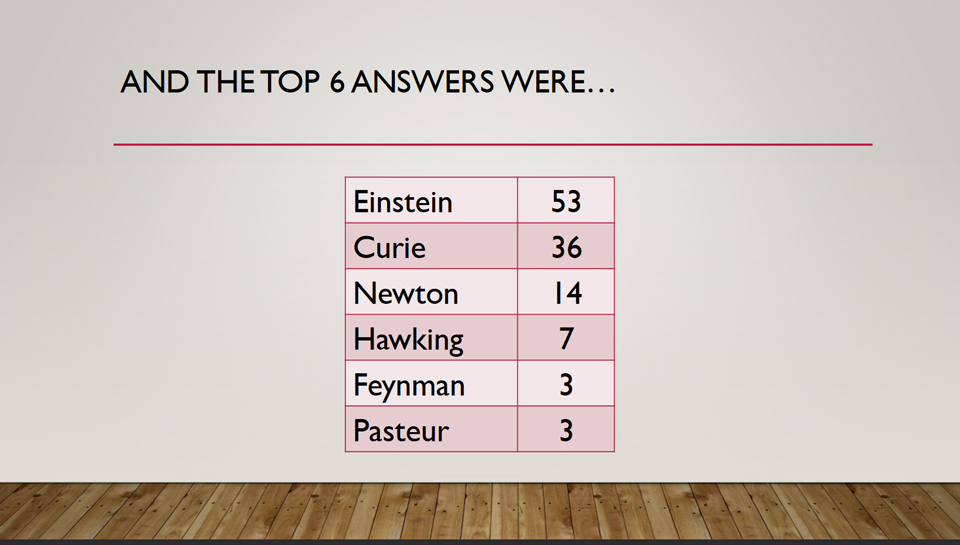 Definitely one of our favourite categories, with a few scientists mentioned who are worth finding out a little more about. Surprisingly Brian Cox was only mentioned twice and when we mentioned that someone who we presumed was a child had said "me",  a lady in the front row put her hand up and admitted it was her!  If you mentioned any of Brian Cox; Darwin; Ada Lovelace; Rutherford; Maggie Adderin Pocock; Mary Anning; Jocelyn Bell Burnell; James Clark Maxwell; Rosalind Franklin; Galileo; Jane Goodall; Jenner; Aziz Sancar; Tesla or Alan Turing, award yourself a point – no points for saying "me" though!
Ada Lovelace is just one of the scientists mentioned in our blog Inspirational Figures: Remarkable Women in STEM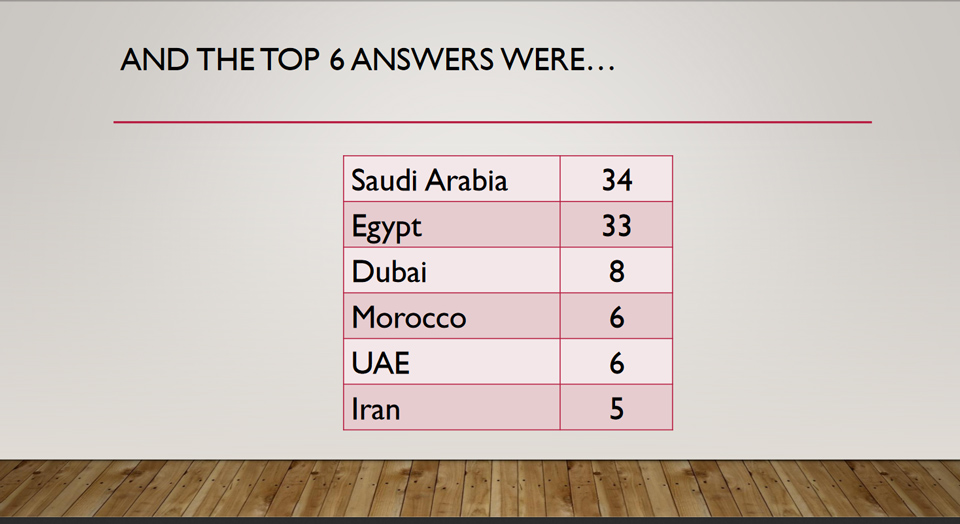 Although most of the countries mentioned were in the Middle East or Africa – congratulations to the 5 people who remembered that Arabic can be spoken in any country and mentioned England or the UK.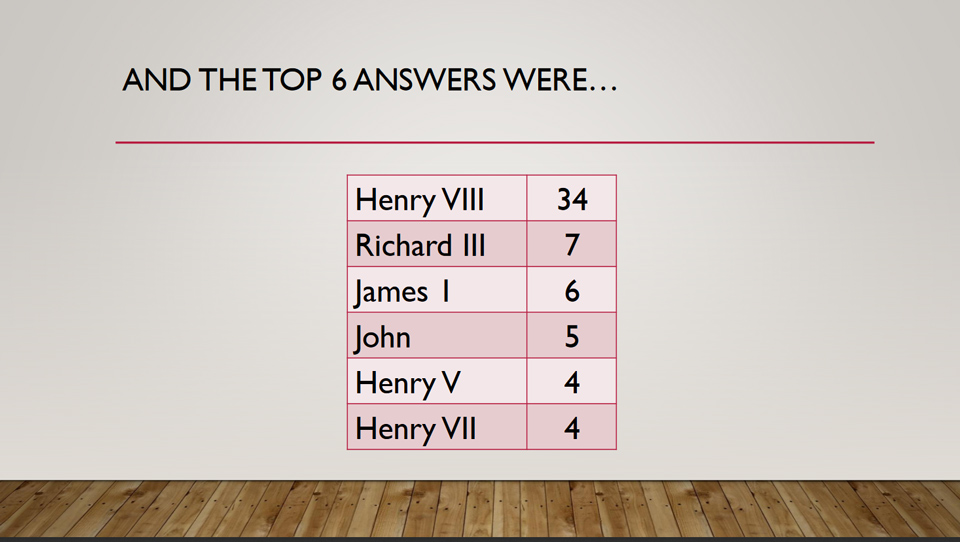 The results in this category were a little skewed by answers only saying "Edward" or "Henry" etc. and failing to include a number or a name. If you answered William the Conqueror, Alfred the Great, Ethelred the Unready, Edward the Confessor or Richard the Lionheart, then award yourself an extra point. Every George was mentioned except George 1st, the first of the Hanoverians, (1714-1727) – we did wonder what he did to be left out!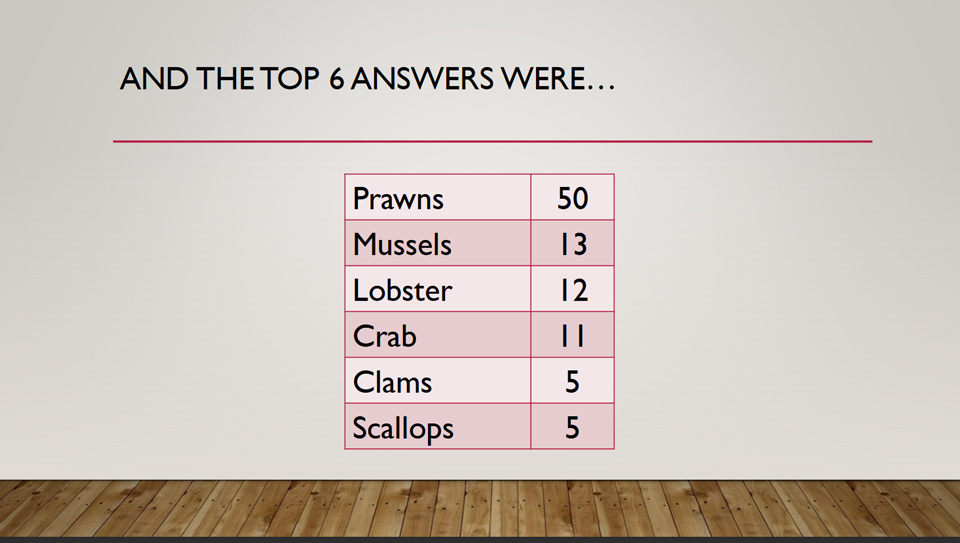 With 12 people naming lobster – do our members have expensive tastes?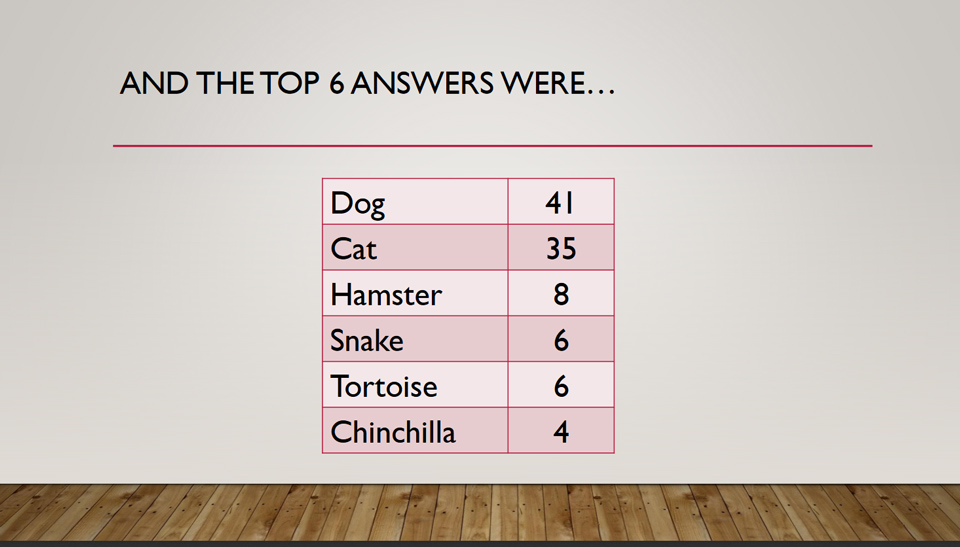 Well dogs won out over cats this time – but did this survey reveal any long-held pet wishes ? 6 tortoises, 3 bearded dragons, 1 pig, 1 terrapin and an ostrich – hmmm…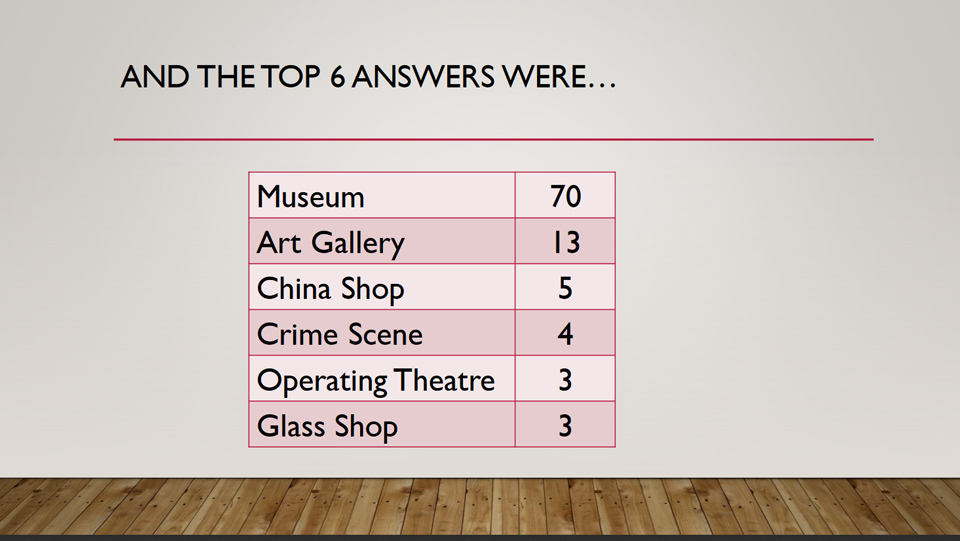 A place where you can't touch anything – museums came in disturbingly high – members are definitely not visiting the right museums if that is the case!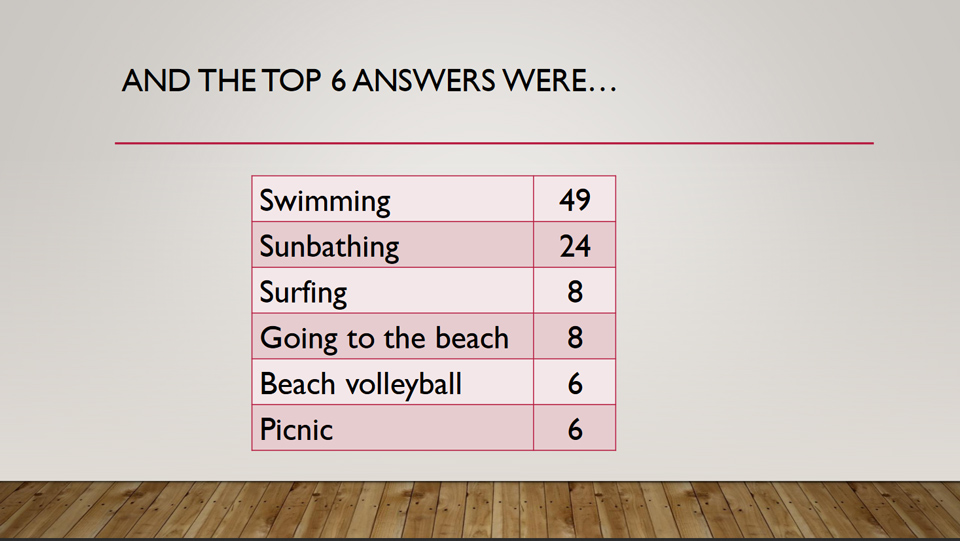 Banana Boating? Camel Riding?  even Water Skiing –  they all sound just a touch too active for us in hot weather – napping and eating ice-creams sounds much better. If you had any of these, award yourselves an extra point.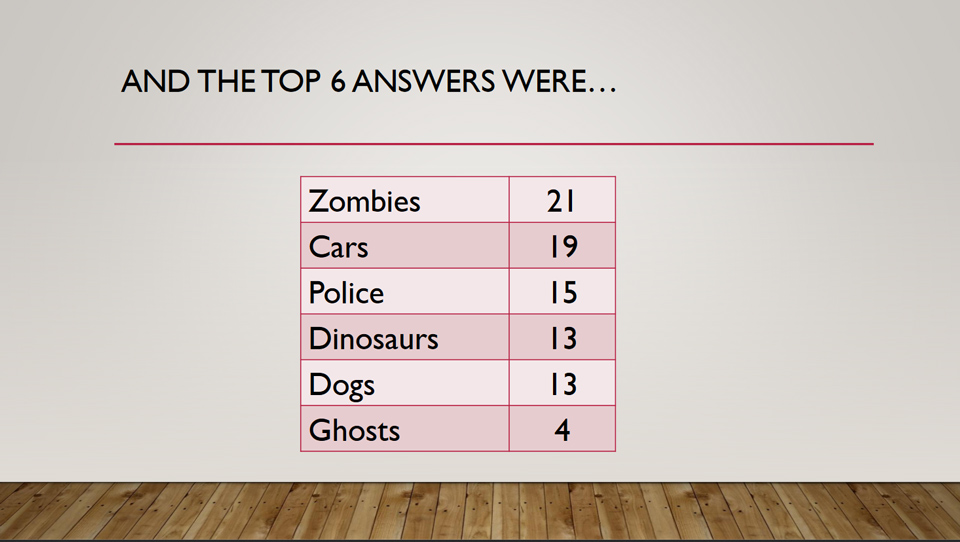 We're trying to spot the movies that saw people chased by monkeys, boulders (oh, yes we remember that one), cows and tigers – any ideas? Someone answered wasp and that is one that definitely provoked memories from personal experience!  If you named any of these, award yourself an extra point.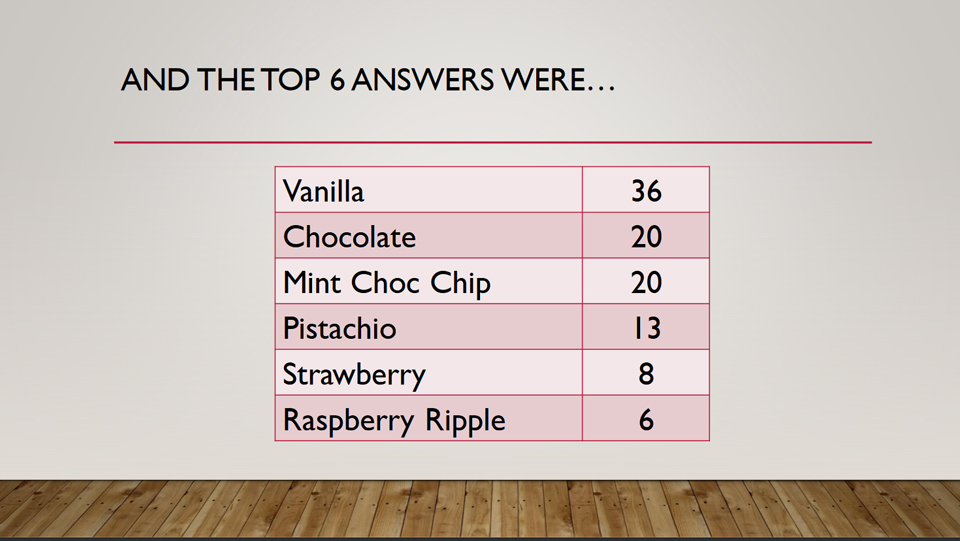 The last category just makes us feel hungry! If you said salted caramel; rum and raisin; banoffee; hazelnut; lemon; mango and raspberry or stracciatella find your nearest icecream vendor and give yourself a point. If you said Thunder and Lightning – thank you for introducing us to a new flavour – double jersey cream, cinder toffee and chocolate sauce – this sounds gorgeous!