Young Reporter, Emmerson, is a very active member of the community. He is a Young Advisor to the Young Mayor of Lewisham, a Young Reporter for the BBC and a Junior Columnist for Kychan Teen Magazine.  Here he shares with us some of his recent musical experiences.
---
Try to embed musical thoughts from a very young age. So much can be achieved for children, but it requires dedicated adults who are prepared to prioritise the needs of their children first. I have been very fortunate because my primary school, Brindishe Green, strongly encouraged children to play musical instruments. We had a variety to select from and I chose the trumpet. I started learning in Year three and I am now in Year eight at Trinity Secondary School in Lee which also offers many musical opportunities for young people to pursue.
Each Friday I attend the Lewisham Schools Concert Band for rehearsals. We generally participate in three events throughout the year. The band is made up of secondary school students from across the London Borough of Lewisham who have sat musical examinations. The music leadership teams from the various secondary schools and the concert band will frequently arrange access to local and national musical events to enrich and develop our understanding. I also belong to the New Testament Church of God – Rehoboth in Sydenham, they too have good music provisions and I am very well supported by Brother Patrick who is an excellent instrumentalist and formally played in an army band.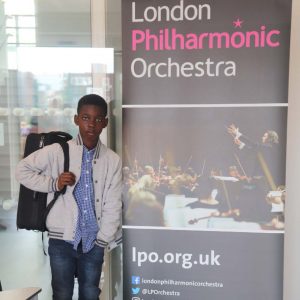 I was fortunate enough to be selected to participate in a two-day LPO Junior Artist: Overture Project with the magnificent London Philharmonic Orchestra in South East London. Music is played all over the world and some children yearn for the chance to play with professional musicians. I was sitting amongst the LPO family, other young musicians from various schools with differing backgrounds to me. We all had a unifying agenda of performing the repertoire of Carmen within two days. The seasoned LPO musicians mentored, encouraged and stretched our musical talents. Our tutors used a variety of teaching techniques to ensure that our understanding of the task was clear. I was familiar with the music as I have seen the performance of Carmen at the Sadler's Wells Theatre. At first the piece seemed quite different and difficult but, in reality, the pieces were very lucid, my musical ken was expanding.
I also played at the Southbank Centre as part of the Lewisham Schools Music Festival. I represented both my secondary school Trinity, Church of England in Lee as well as the Lewisham Concert Band, the event was epic. These two experiences have consolidated my comprehension and my musical language has greatly improved.
Each year I attend performances that nurture, develop and offer exposure to the classical world at the BBC Proms. While Mousetrap Theatre Projects encouraged my family to attend an event featuring the Chineke Orchestra. Some people live a lifetime and do not get a chance to experience what I have experienced musically in the last academic year. Encouraging children to get early access to life changing opportunities is something that I am always promoting and passionate about. Pursuing music and playing instruments is such fun. Thank you to all of the London Philharmonic Staff who looked after and educated me and others so well. I recommend other families to utilise the LPO Young Creatives Courses  and to feed your children's musical curiosities. Hopefully we will work together in the not too distant future.