It's been one year since we saw the inaugural Above and Beyond Awards. So, what has happened since then?
The Above and Beyond Awards were created by a group of charities, companies and individuals who support the needs of children and young adults with high learning potential (gifted/more able).  These inaugural awards celebrated parents, teachers, support staff and other professionals in the UK who go 'above and beyond' to help exceptional young people within the UK achieve their high learning potential. They also celebrated the achievements of children and young people in the UK, 'above and beyond' expectation for their age, who help in the wider community or are overcoming challenges in order to excel.
We had an amazing awards day – enjoying meeting and celebrating the work of brilliant individuals.  Read more about it in the Above and Beyond Awards 2019 Round-Up  and discover more about the winners in Above and Beyond Award Winners, 2019
We catch up with a couple of the winners to find out what they have been doing during 2019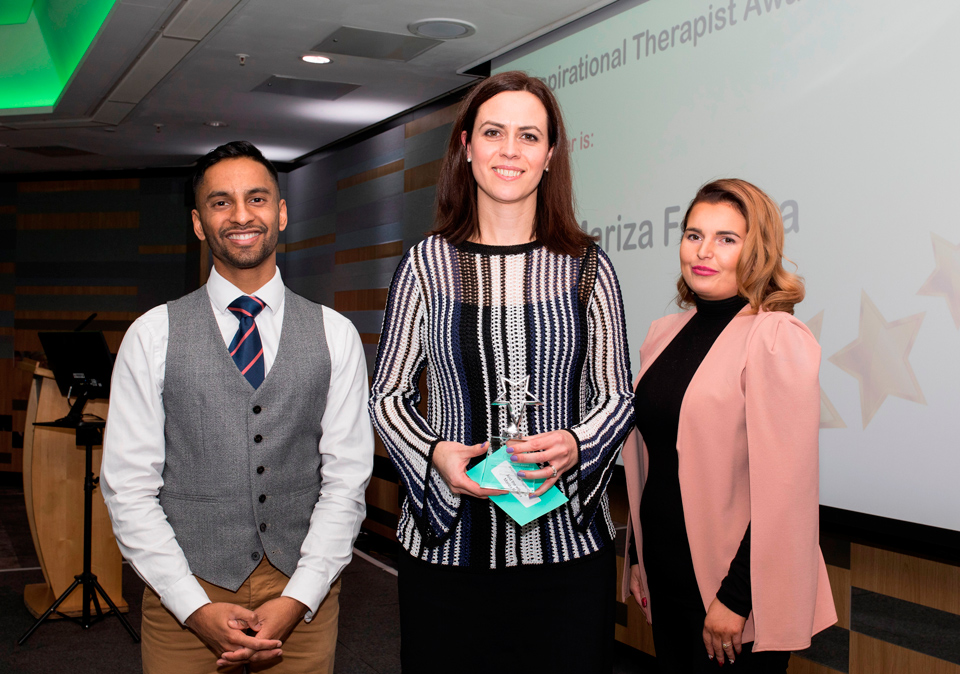 Mariza Ferreira received the Above and Beyond Inspirational Therapist Award 2019, for her work in helping DME kids and their families, and for promoting the importance of occupational therapy both nationally and internationally. Since then, among other things, Mariza has lectured to 50 occupational therapists at The OT Show 2019 and run a course for occupational therapists on how to work with children with DME. She has created a free online course for parents of children who are struggling with auditory sensory processing and is currently writing a further course addressing other difficulties from sensory processing disorders. Read more about Mariza's year at: https://theotcompany.com/2020/02/04/marizas-eventful-2019/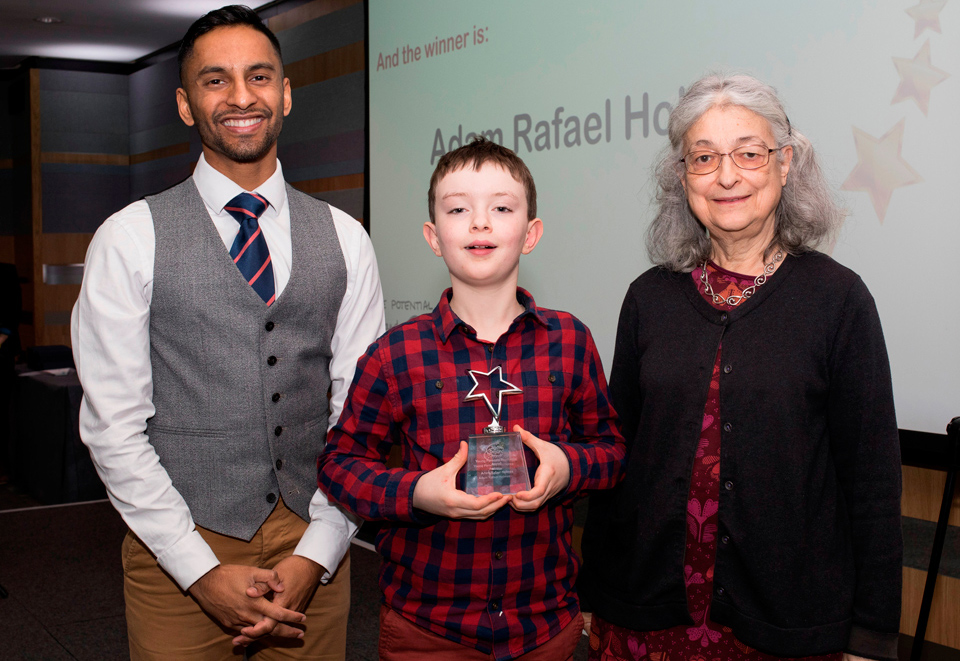 Adam Rafael Holmes received the Young Person's Resilience Award 2019 for overcoming many disadvantages, including hearing and speech difficulties and severe bullying, and using those barriers as tools for growth, particularly in the field of creative writing.
Following the awards in February, 10-year-old Adam has moved to a new home in a different area of the country, started a new school and has now written and published his own book "Tunnel of Adventure" from which he is donating the proceeds to I CAN, the Children's Communication Charity. Adam wants to inspire other children to find their voices through writing. "If you can't speak and communicate easily then life can be quite difficult. It's not fair if someone thinks they can't do things because they've got these difficulties. I want to prove that everyone can achieve the same or different great things." His current projects are creating an audio book and translating his book into French. Read more in the blog The Tunnel of Adventure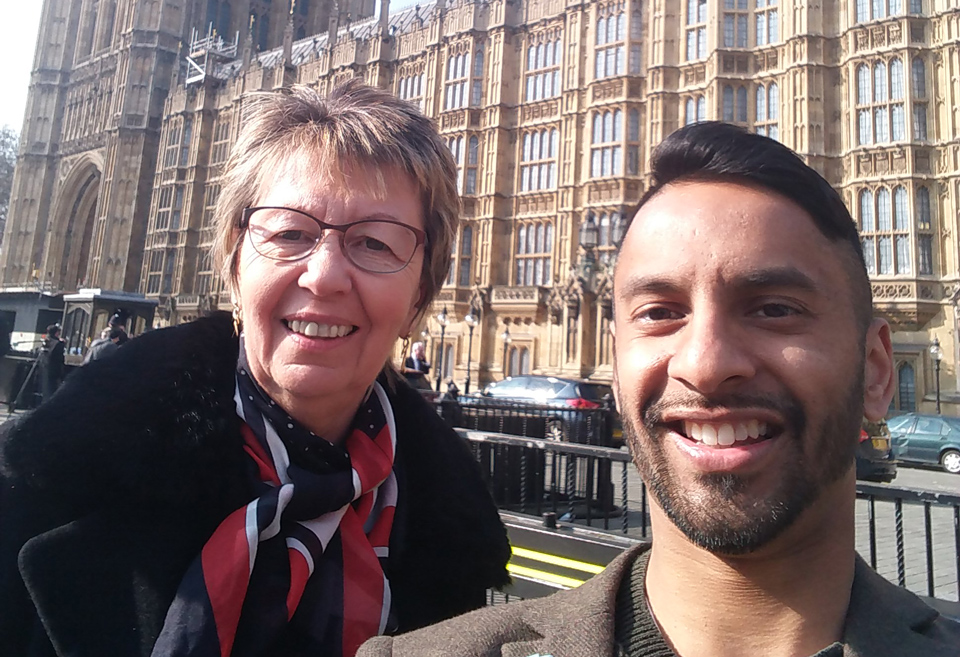 One of the greatest unexpected benefits of the Above and Beyond Awards has been the involvement of Bobby Seagull as a champion for awareness of high learning potential and DME during the last year. He moved on from being host of the Above and Beyond Awards to becoming an ambassador for Potential Plus UK and shows a great understanding of the challenges faced by young people with high learning potential "IQ on its own doesn't necessarily lead to achievement. Children with High Learning Potential need the right support, opportunity and motivation to achieve."
Since rising to fame on University Challenge, Bobby, who is a passionate advocate for maths education and a social media aficionado, has written books, starred in podcasts and television shows and continues to teach maths. His profile has made him one of the media's "Go-To" people for items involving maths and/or high iq, enabling him to promote understanding of the needs of young people with high learning potential. Find out about a recent debate he has been involved in and why he changed his twitter handle to Bobby "Proud Geek" Seagull in the blog Do You Embrace "Geek" and "Nerd"?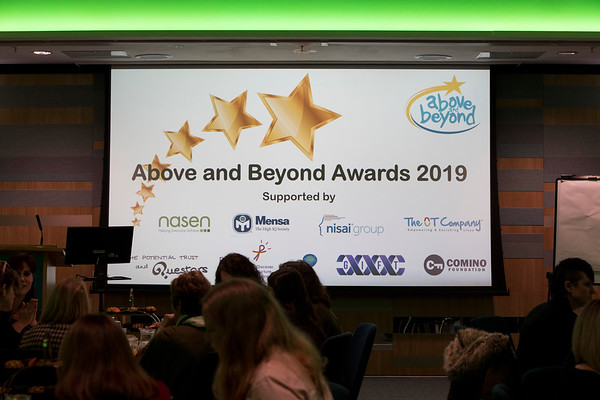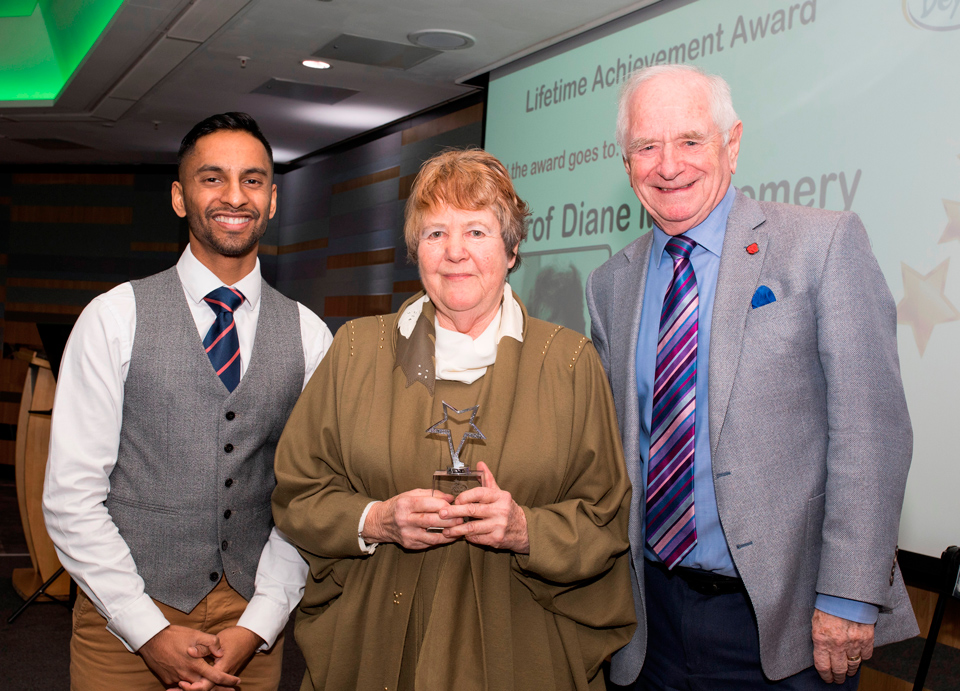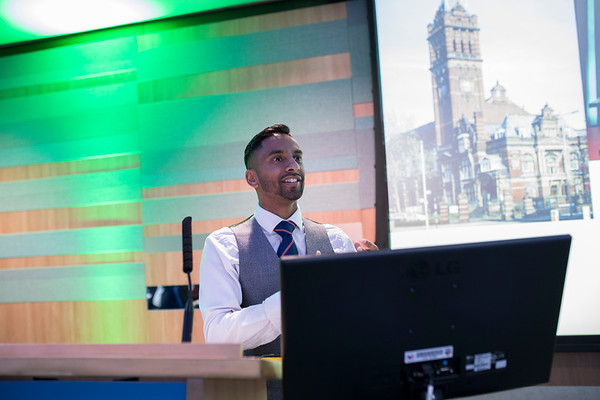 Another benefit of the Above and Beyond Awards was the agreement by its partner organisations that the Awards on their own just weren't enough – that it was important to build on the success of these celebrations, to continue to develop support for young people with high learning potential, through collaboration and networking, and that their aims should include:
Raising awareness of the needs of high potential and Dual or Multiple Exceptional (DME) learners
Working with parents, schools and other organisations to bring the needs of young people with high learning potential, including those from disadvantaged backgrounds and with special educational needs, to the notice of policy makers in Ofsted and the DFE
Identifying what works well for encouraging disadvantaged, academically able learners.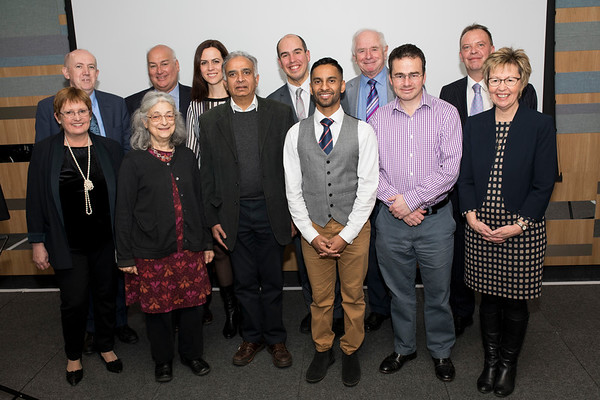 So, what are some of the things that the Above and Beyond Organisations themselves have been up to in the last year?
Potential Plus UK has continued to build opportunities for community and support for high learning potential children and their families, through events and their Facebook groups. They have also raised awareness this year, through keynote speeches, articles and campaigning. Potential Plus UK and nasen have worked closely together on many aspects of DME, including running training courses for teachers in recognising and supporting DME young people in the classroom. Nasen is advocating for children with DME and is currently in conversation with the Department for Education about their SEND Code of Practice Revision, 2020.
Nasen has further developed Whole School SEND https://www.sendgateway.org.uk/ a website which acts as a gateway for all aspects of special educational needs, including DME. Nasen Live 2020 a one day SEND CPD conference will be sponsored by Nisai Learning who also continue to promote opportunities for the removal of barriers to learning through an emphasis on global partnerships.
British Mensa has been developing its services to children, particularly membership for under 11s and running family Mensa events across the country. While Gift Courses continues to run successful weeks for teenagers with high learning potential and, with the support of The Potential Trust, was able to hold a conference for Gift Courses alumni who explored ways to support GIFT and its participants in the future.
The Potential Trust (not related to Potential Plus UK) is an educational charity who work with teachers and organisations to support the development of children with high learning potential. It has been a prime mover in creating collaborative moments during this year. This includes several for our Inspirational Therapist Winner Mariza Ferreira, who, in conjunction with Potential Plus UK, organised a two-day course for Occupational Therapists to teach them how to accommodate the sensory needs of children with high learning potential. The Potential Trust also enabled Potential Plus UK to hold a conference for their assessors and webchat volunteers and a meeting of the international HELP group, at both of which Mariza offered her expertise and experience.
HELP – High European Learning Potential, to which both nasen and Potential Plus UK belong, is an international organisation for groups working with children with high learning potential and dual or multiple exceptionality and their families in the Czech Republic, Germany, Greece and The Netherlands, as well as the UK. At this conference they were able to discover how similar problems are in all of these countries for high learning potential and DME children and to discuss how to work together to develop a voice to advocate for them.
Under the Above and Beyond umbrella, 2019 has seen closer collaboration between a variety of charities, companies and individuals, in the cause of children with high learning potential… We look forward to even more in 2020!