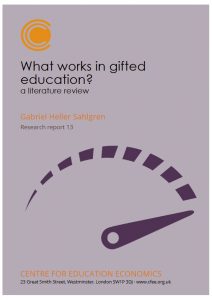 It was with great interest that I attended the launch last week of the latest report from the Centre for Education Economics (CfEE) entitled:  'What works in gifted education?'
CfEE is an independent think tank working to improve policy and practice in education globally through impartial economic research, so I welcomed the opportunity to hear from an organisation that was reflecting on education from a different perspective.
Prior to the launch I had been working in a school in Camden but I found a quiet corner to read through the summary and two things struck me:
There was no clarification within the report about who the 'gifted education' was aimed at.
The recommendations about what worked well mirrored the beneficial strategies highlighted in the 2008 review carried out by the EPPI Centre (Evidence for Policy and Practice Information and Co-ordinating Centre) at the UCL Institute for Education.
So I went into the launch wondering how we had moved forward over the last 10 years.
The report author is CfEE Lead economist Gabriel Heller-Sahlgren and for this report he reviewed the literature on what works well for 'gifted' children with the aim of drawing out some conclusions on effective interventions.  What he found was that there is not sufficient research and evidence about what actually works that would enable meaningful conclusions for policy.
However, similar to the findings of the EPPI review, programmes of enrichment and working at depth with a focus on individualised, self-directed learning appear to offer most benefit for 'gifted' children.
One of the difficulties highlighted was the importance of identification for such programmes and the variation in identification criteria.  Gabriel recommended the need for universal screening, taking into account local norms and a variety of identification metrics. Alternatively, of course, all children could be given the opportunity to take part in the programmes and observe what comes out of it! This approach is called a 'revolving door' in the English education system.
Gabriel's conclusion is that there should be funded research into what works well in gifted education!
Discussing the report were Professor Deborah Eyre, Chief Executive of the company High Performance Learning and the former Director of the National Academy for Gifted and Talented Youth (NAGTY); Professor Tim Oates, Group Director of Assessment Research and Development for Cambridge Assessment; and Ofsted Head of Research, Professor Daniel Muijs.
The outcome of their discussions?
That the report didn't draw out anything new.
That a couple of programmes are too few to base policy on.
That there is a fundamental problem across much of education that there is no agreement on what is being talked about with regards to 'gifted' education.
Back to the conundrum of who these children are!
Maybe it is better to consider how we can identify and support high learning potential? Potential Plus UK endeavours to address this by using a tripartite model. But perhaps that is a blog for another day!